Helping You Boost Your IT Services' Efficiency
Gone are the times when customers had to ring up the helpline number for every IT service. Automate query management, service selection, query management, and more to take away the burden from your consultant team. Don't wait for your customers to call or email you every time for service(s). Take customers' experience to the next level by enabling them to solve their queries and problems themselves with our IT service portal.
Manage your customers' information in real-time with our IT service provider. Say GOODBYE to manual addition and deletion of records and bring more ease in managing your customers' details.
Add, update, or delete the details of one or more services on the go. Ensure full transparency in your business by displaying the right details of your services including prices, reviews, and more.
Manage your consultants and add or update their details on the fly to keep your IT services transparent and up-to-date.
View all the cases customers generate centrally from within our IT service portal. Assign the cases to different consultants in your team to optimize time and efforts.
Our Customer Success Stories
How We Create a Perfect IT Service Portal for an IT Provider Company
Requirement gathering

Once a client signs up with us, our team has a meeting with them to discuss an overview of what they need, and then there is a discussion about the nuances of what we can do for them.

Cross-check with the base product, finalize customization

Once we know what the requirements are, we cross-check those with the product we have and figure out what customizations are needed for IT services portal development. If we need to create a unique custom solution, we create an exhaustive list of the details and a roadmap for it.

Give iterative updates

Once we begin creating the solution, we share iterative updates with the client so they are always in the loop.

Test for limitations

We test out the changes and limitations so that we can ensure that the solution works exactly as the client required it.

Final delivery

Once we get final approval from the client, we deliver the final product with the necessary documentation.

Maintenance and Support

Once you begin using it, we provide support and maintenance as well.
Your IT Service Portal Consultants
We have been in the portal industry for over 14 years now. We believe that portal solutions can streamline complex workflows and that can lead to better efficiency, transparency, and security. If you are in the IT service provider industry, we want to help you help you manage your services, your consultants, and of course your customers in a better way.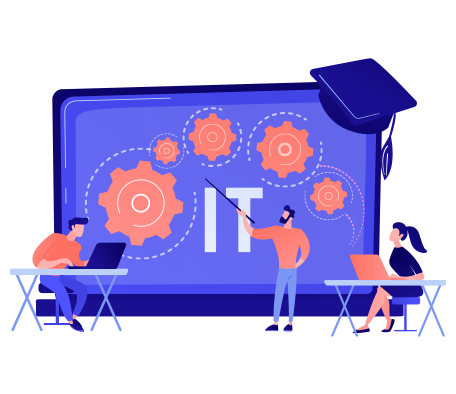 What our customers say

I highly recommend Sales port - A Customer Portal for Wordpress. It has provided us with a very functional Customer Portal al ...

So a new project for a client meant I needed a Customer Portal that was customisable, could work with a tight integration bet ...
Blog
Explore latest news, trends, guides and about everything in the world of CRMs.
Let's help you help your customers with streamlined IT services
© Copyright 2021 CRMJetty All rights reserved
To Top