For personal insurance, do you tend to call someone or lookup on Google for the answers?
It's Google, probably!
Because it's easy and convenient to find answers and solutions rather than asking for help.
We expect round-the-clock service, which is not possible in a traditional approach. Technology has transformed convenience into luxury and is now a necessity. Insurance brokers need to embrace technology to stay competitive in the digital environment. The key is to bring a solution like a Salesforce broker portal that helps brokers know when an existing customer has a policy in another line with them.
Broker portals boost brokers' efficiency, enable mobility, and enhance customer experience. With the help of Salesforce broker portals, insurers can create personalized offers tailored for individual customers by analyzing their surveys and other open data.
The right solution can help protect backend operations and streamline frontend operations to ensure a 360-degree view of the customers.
But what exactly does a broker portal mean? Let's find out!
What is a Broker portal? And How does it Work?
A broker portal is a configurable self-service portal that gives insurance agents/brokers the power to acquire more clients by managing client acquisitions and entire business operations from a centralized solution.
It gives agents/brokers access to every department irrespective of the location or device.
Brokers can use the Salesforce broker portal to obtain quotes, client details, renew policies, submit claim data, etc.
The newly acquired portal provides brokers with all the required functionalities in a single solution, reducing the time dedicated to management tasks. The consolidation of all brokers' services in one place helps insurance companies achieve better technical and operational management.
Benefits of Salesforce Broker Portal
Competitive edge, efficiency in business operations, and customer satisfaction are the key highlights of the Salesforce broker portal.
Other benefits are:
Exceeds Expectations
The Salesforce broker portal provides agents/brokers with tools and features to deliver personalized communication, collaborate internally, streamline service requests, track opportunities, and a lot more.
Work Smarter
Get all the service requests submitted through different platforms in one place. Prioritize inquiries based on urgency and ensure that the right person is managing a case. Help your policyholders with guides, video tutorials, FAQs, etc. Do all of this directly from your portal.
Personalize Interactions
Engage in customer conversations with smart alerts. Allow customers to solve their queries with the help of the community and knowledge base. Let them access their information and generate insurance certificates automatically.
Last but not least, collaborate with colleagues, dig into the community groups to understand customer needs and issues.
Faster Turnaround Time
Salesforce broker portal enables you to offer your customers 24*7 services via SOS video chat or real-time interactions. Provide customers with self-service for quick problem resolution.
Better Insights
Get a clear picture of the business working with company insights like real-time credit information. Improve the underwriting process and accurate pricing. With the Salesforce broker portal, enable your brokers to trade more policies and get desired results efficiently.
Robust Solution
With its features and services, Salesforce allows businesses to connect with their customers, clients, agents, and more in a better way. Using it, businesses can track customer activity, community discussions and manage analytics from anywhere with accuracy. Be it instant access to the information or marketing to the customers, Salesforce makes everything possible.
Hence, you should go for a Salesforce broker portal. And with that being said, here are the installation steps.
How to Install Salesforce Broker Portal?
Follow the steps below to create an agent portal:
From Setup, in the Quick Find box, enter Digital Experiences, and then select All Sites.


Click New.
Select the Insurance Agent Portal template, and click Get Started.
Enter a Name and a URL for the portal, and click Create.
Click Builder.
Customize the portal to suit your business needs, preview the customized portal, and then publish it.
Note: If you want to enable the Financial Services cloud, follow the steps below:
Install a package for Financial Services Cloud and enable StreamAPI.
To access insurance objects and features, users need the FSC Insurance permission set license.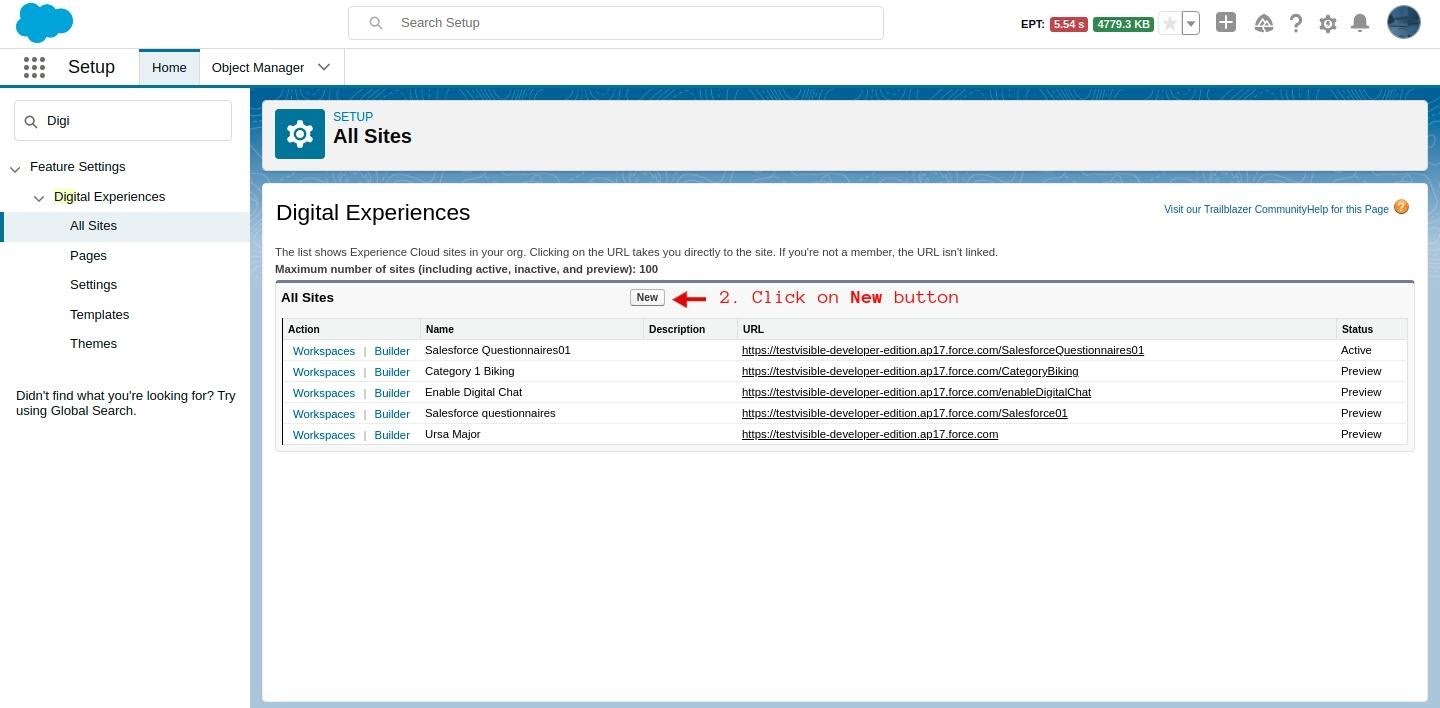 From Setup, in the Quick Find box, enter Users, and then select Users.
Click the user that you want to give permissions to.
Under Permission Set Assignments, click Edit Assignments.
Under Available Permission Sets, select FSC Insurance, and then click Add.
Save your changes.
Your portal users can access insurance objects without requiring any additional permission set license. In your user profile, under General User Permissions, select Access Insurance Objects.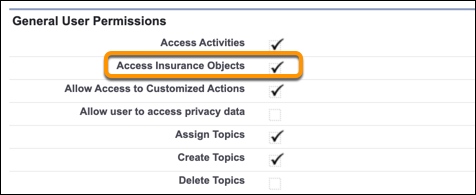 That's it! You're all set to use the broker portal.
Excited to know the features inside?
Features of Salesforce Insurance Portal
Insurance portals have various features such as quote submission, policy management, sales and marketing apps, analytics capabilities, security, etc. Here's more about them:
Policy Management
You can list down policies, conditions, amounts, premiums, etc., and get an overview of policies sold, canceled policies, agents' ratings, their productivity, and so on.
Premium Plan Management
Customers can pay their premiums by selecting the different payment methods available. They can view their premium details on the dashboard – like paid premiums, premiums that are due, etc.
Knowledge and Consultation
Insurance policies use terms that are difficult to understand. Hence, the portal enables you to add a knowledge base with FAQs, terms explained, articles, guides, and more. This equips your customers and agents with the correct information instantly.
Personalized Quotes
Salesforce broker portal enables agents/brokers to provide customers with personalized quotes based on their requirements and specifications. It enhances agents' visibility by giving them a clear idea of customer information, claim requests, premium lifecycle, etc.
E-Signatures
It makes it easy to close the deals. Salesforce broker portal allows agents/brokers to close the deals or share insurance policies on the spot by obtaining e-signatures.
Other features include a smart dashboard, comparison module, alerts and notifications, profile management, digital workspace, etc. CRMJetty provides it all.
Read below to know more about us and how we can help you.
CRMJetty – Your Salesforce Broker Portal Partner
CRMJetty is a hub of innovative portal solutions. We have 14+ years of experience in portal development and can help you build a custom solution tailored for your business.
Along with customization, we also offer ready-to-integrate solutions. So, whether you're looking to integrate a readily available solution or customize your existing one, we have got you covered.
Talking about our Salesforce portal, it's a secure and scalable solution to expand along with your business expansion.
Following are a few of the features of our Salesforce Insurance Portal
Drag and Drop Builder
Multi-Language Support
Role-Based Access
Real-Time Information
Policy Management
E-Signatures
Financial Calculator
Digital Payments
Mobile Friendliness
How We Will Create a Perfect Insurance Portal for You?
First, our development team will gather all the requirements by discussing the nuances and figuring out the solution – whether your portal will need customization or not. If required, what are they, and will create a roadmap accordingly. Once our team starts the development process, we will update you about the iterations while testing the solution. Once approved by you, we will deliver the final product, which you can use. We will also provide short-term support post-launch for you to get familiar with the features.
Interested in partnering with us?

All product and company names are trademarks™, registered® or copyright© trademarks of their respective holders. Use of them does not imply any affiliation with or endorsement by them.