Simplifying Your Insurance Business
People are often skeptical about insurance providers. So, as insurance providers, you can be transparent, give proper information, and streamline your offerings clearly with the insurance portal. Put your customers in the center of the insurance processes and they are more likely to trust you and your insurance policies and services.
As the insurance company, you will have admin rights to list down policies, their conditions, amounts, premiums, etc. You will also have an overview of the policies sold, agents' productivity, ratings and reviews, cancelled policies, and more.
Insurance agencies can get a complete overview of all the agents and their progress. They can assign them territories, and departments via the portal. The manager gets every individual agent's progress report and can view the entire graph of the customers allocated, policies sold, renewals, etc.
The portal is a digital workspace that agents can carry around and share the same with your employees. This makes onboarding of clients easier and results in less gaps in the sales funnel. It streamlines the whole flow of agent and client management, therefore reducing the back and forth of emails and messages to give updates and reports. Once marked in the portal, the report is auto generated.
Promotional Plans Management
Run special offers and promotions via the portal when you see certain patterns in the purchase decisions of clients.
Online Premium Payment Management
Customers can easily pay their premiums using any of the payment methods you choose to integrate to offer to them. Get a dashboard to see monthly, yearly, area-wise premiums that are being paid or are due so that you can take actions accordingly.
Claims And Renewal Management
Enable customers to file a claim and track a request for their policy easily from within the online insurance portal. As the admin, you can ask for the necessary documents to settle the claim and update the status of the customer's claim request after document verification. Let customers renew policies by paying the amount applicable before they expire easily within the portal.
Our Customer Success Stories
How We Create a Perfect Solution for an Insurance Company
Requirement gathering

Once a client signs up with us, our team has a meeting with them to discuss an overview of what they need, and then there is a discussion about the nuances of what we can do for them.

Cross check with the base product, finalize customization

Once we know what the requirements are, we cross-check those with the product we have, and figure out what customizations are needed for it. If we need to create a unique custom solution, we create an exhaustive list of the details and a roadmap for it.

Give iterative updates

Once we begin creating the solution, we share iterative updates with the client so they are always in the loop.

Test for limitations

We test out the changes and limitations so that we can ensure that the solution works exactly as the client required it.

Final delivery

Once we get final approval from the client, we deliver the final product with the necessary documentation.

Maintenance and Support

Once you begin using it, we provide support and maintenance as well.
Your Insurance Portal Consultants
We have been in the portal industry for over 13 years now. We believe that portal solutions can streamline complex workflows and that can lead to better efficiency, transparency, and productivity. If you are in the insurance industry, we want to help you give all of that to your agents and your clients.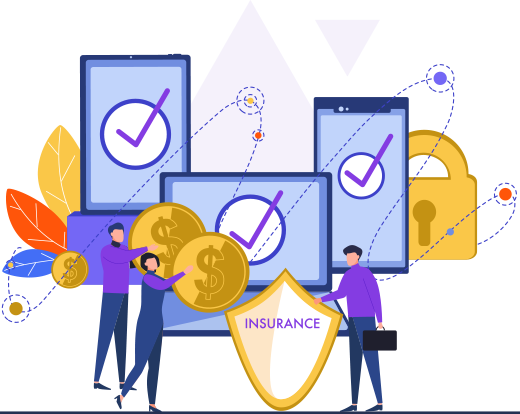 What our customers say

I highly recommend Sales port - A Customer Portal for Wordpress. It has provided us with a very functional Customer Portal al ...

So a new project for a client meant I needed a Customer Portal that was customisable, could work with a tight integration bet ...
Blog
Explore latest news, trends, guides and about everything in the world of CRMs.
Let's get the roadblocks out of your operations!
© Copyright 2021 CRMJetty All rights reserved
To Top